Birth Plate Day
Personalised birthday gift ideas, the plate below is ideal as a birthday present or for new baby announcements, its the perfect gift for births and birthdays, 50th birthdays, 40th birthdays and christening.
This traditional Blue Delftware Plate measures 9 inches (23cm) and the border matches the wedding plate making a matching pair.

A crib sits in a warm cottage scene. The clock on the wall shows the time of the birth, between 6am and 6pm the curtains are shown as open.

The birth weight is shown at the end of the crib and the Childs name, date and place of birth are Hand painted on the inner rim by one of our artists.

For a larger view, please click the plate ...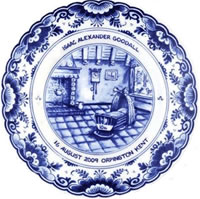 This is the Day Birth plate, a wonderful unique gift to commemorate the birth of a child or grandchild or great grandchild. Ideal as a christening / baptism gift or perhaps for an 18th or 21st birthday.

All our plates have a unique number that identifies this plate for future reference and are digitally photographed before being despatched. We reserve the right to use the images for advertising purposes.


Customers who ordered via the web are notified by e-mail on the date of despatch. Should they request the plate be sent direct to the recipient, we e-mail photographs (front & back) direct to them of the gift for their records.