Wedding Plate
Wedding gift ideas, this is a unique wedding gift, the perfect gift for weddings with the names of the bride and groom, date and place of the wedding all painted on the inner rim of the plate.
This traditional Blue Delftware Plate measures 9 inches (23cm).

A happy couple travel in a horse-drawn carriage. The clock on the church steeple depicts the time of the wedding.

The names of the Bride & Groom, the date and the place of the wedding are hand painted on the inner rim by one of our artists.

For a larger view, please click the plate ...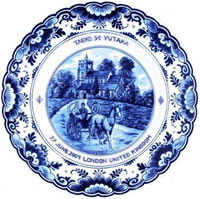 All our plates have a unique number that identifies this plate for future reference and are digitally photographed before being despatched. We reserve the right to use the images for advertising purposes.

Customers who ordered via the web are notified by e-mail on the date of despatch. Should they request the plate be sent direct to the recipient, we e-mail photographs (front & back) direct to them of the gift for their records.